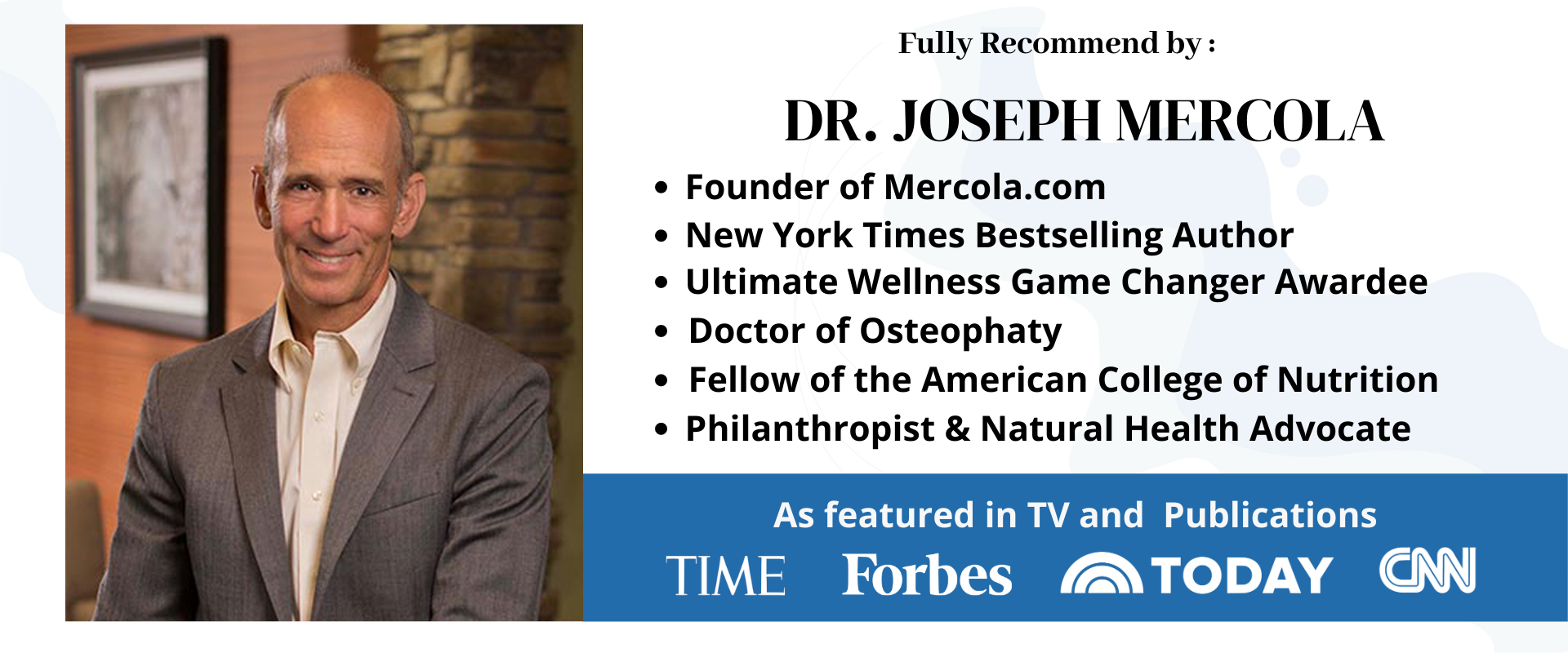 Dr. Joseph Mercola is the founder of Mercola.com. An osteopathic physician, best-selling author and recipient of multiple awards in the field of natural health, his primary vision is to change the modern health paradigm by providing people with a valuable resource to help them take control of their health.
---
Credentials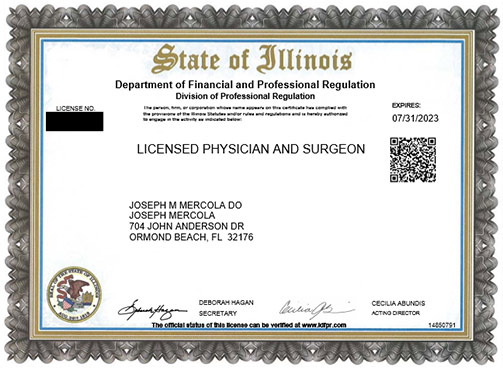 ---
Recognized Author and Pioneer in Natural Health
Due to his tireless efforts in disseminating important health information to the public, Dr. Mercola has been the recipient of numerous awards and honors. In 2009, he was named the top Ultimate Wellness Game Changer, which awards "100 innovators, visionaries and leaders in 10 categories who are harnessing the power of new media to reshape their fields and change the world."
He also has received prestigious awards from Emord and Associates P.C. for his contributions to holistic medicine, including the Sacred Fire of Liberty Award, Excellence in Health Journalism Award and the Freedom of Informed Choice Award.

---
A Thought Leader in Natural Health
Dr. Mercola has paved the way for revolutionary changes in the field of natural health. He is always ahead of the curve when it comes to innovative health information, breaking beyond the confines of conventional medicine to bring trustworthy health advice to his audiences. Here are some of the contributions he made to natural health:
| | |
| --- | --- |
| 1999 | Reported about the dangers of the NSAID Vioxx. In 2004, the drug was withdrawn by Merck from the market due to its potential to cause adverse cardiovascular effects. |
| 2000 | Advised against the cultivation and consumption of genetically modified organisms (GMOs). In 2015, the National Geographic published an article calling GMOs "the biggest fraud in the history of science." |
| 2000 | Promoted lack of vitamin D as "far more important to health" than concerns over calcium. In 2015, Science Daily promoted sunlight and vitamin D to be necessary for public health. |
| 2001 | Warned against the use of mercury in dentistry, which was revealed to have close links to the development of Alzheimer's disease. In 2017, the Minamata Convention on Mercury became effective, banning the manufacture, import and export of products that contain mercury, including dental amalgam. |
| 2002 | Advised against water fluoridation, as fluoride is an endocrine disruptor that can do body-wide problems. In 2015, the U.S. lowered its fluoride levels in water, finding that it damages the teeth. |
| 2006 | Advised against aspartame due to its connection to leukemia and 90 other different related adverse reactions. In 2015, The Washington Post published an article about on the real dangers of fake sweeteners. |
| 2012 | Supported the California Ballot Proposition 37 (Yes on 37) which would require GMO foods to be labeled. Prop. 37 paved the way for other state initiatives, such as in Oregon, where a bill was passed in 2014 officially banning genetically engineered crops from being grown in Jackson County. |
| 2014 | Supported the regenerative agriculture movement, which aims to promote biodynamic farming to rebuild topsoil, protect biodiversity and prevent global disaster. |
| 2014 | Visited Mexico and partnered with Caminos de Agua (formerly CATIS-Mexico) to support rural communities by helping develop low-tech fluoride removal and rain water catchment mechanism for non-contaminated water. |
---
Books and Publications
Dr. Mercola has written a total of 15 books, three of which have been included in The New York Times Best Sellers list, namely "Effortless Healing," "The No-Grain Diet" and "The Great Bird Flu Hoax." His most recent books, which have also been hailed as best sellers in the health category, are "Fat for Fuel," "Ketofast" and the newly released "EMF*D."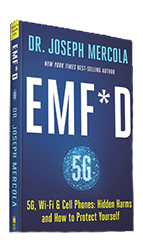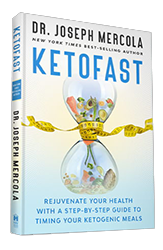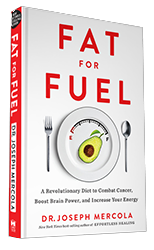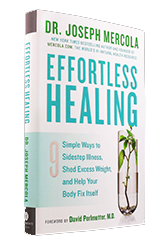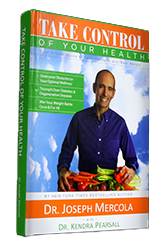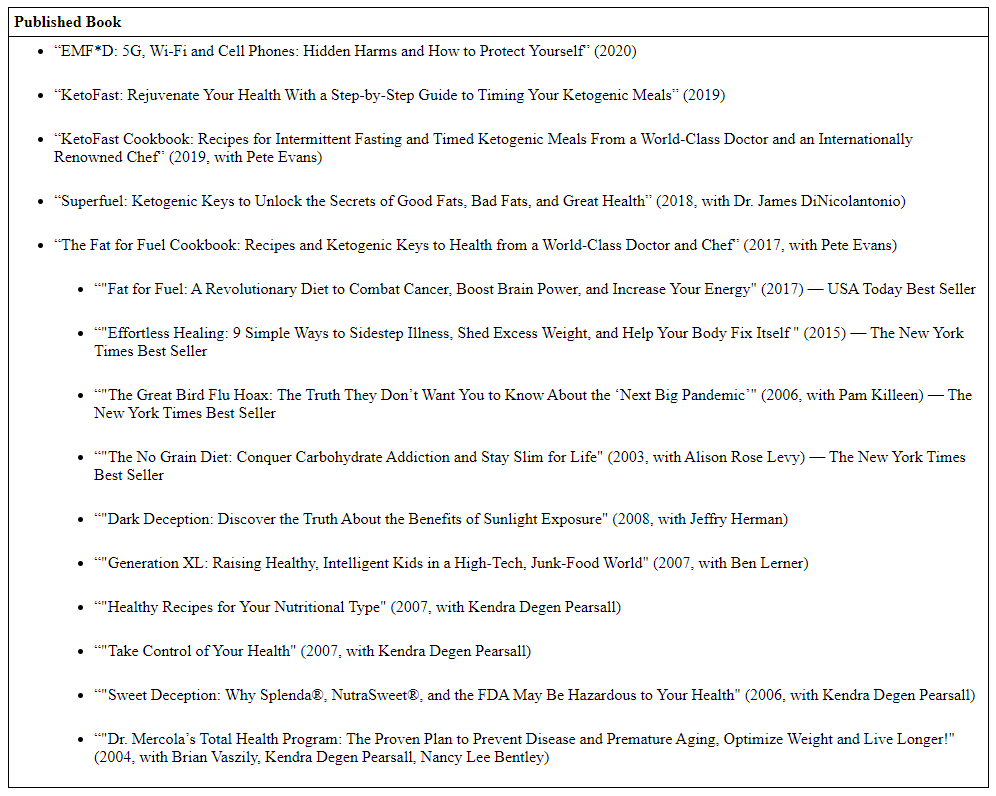 He also has written 30 scientific studies and reports published in medical journals and publications, with topics ranging from the dangers of aspartame to mercury toxicity. He was granted fellowship status by the American College of Nutrition in October 2012, which requires a minimum of four requirements:
Co-write five or more publications relevant to nutrition in referred medical or scientific journals


Demonstrate significant experience in patient care


Hold a doctoral degree from an institution that is accredited by the Regional Accrediting Organizations


Maintain status with the ACN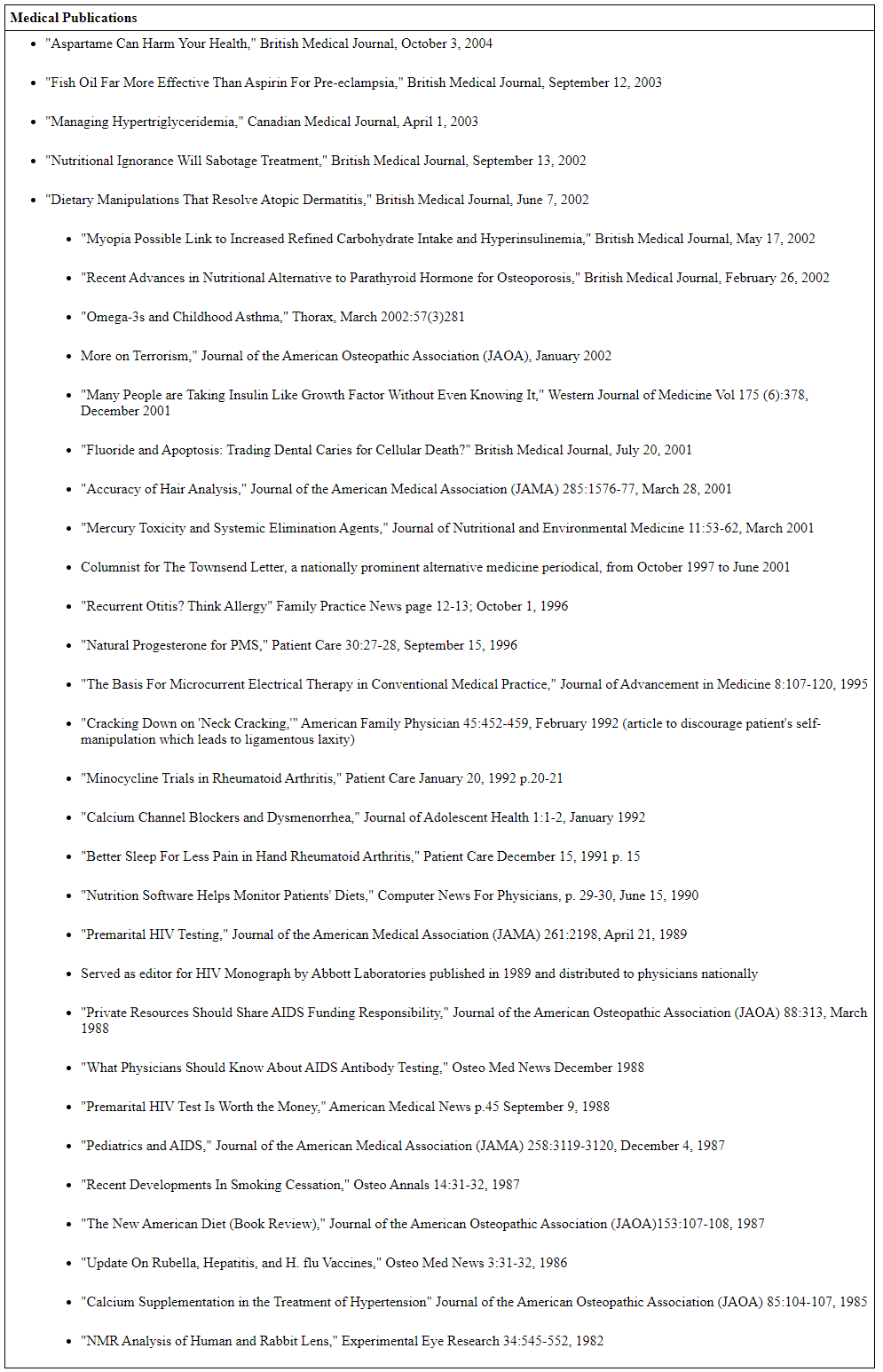 ---
Media Appearances
Dr. Mercola has been invited to appear in local and international news programs to share his reliable and cutting-edge insights on various health issues:

In addition, his Effortless Healing program has been seen by many on PBS.
---
Early Life and Education
Dr. Joseph Mercola was born, raised and educated within the city limits of Chicago, and regards himself as a true Chicagoan. The son of Jeanette Aldridge and Thomas Nicholas Mercola, he wasn't raised in a particularly health-conscious household. His introduction to natural health came much later, partly due to a book he read on the importance of running and aerobic exercise entitled "Aerobics," written by Dr. Kenneth H. Cooper.

As a high school freshman, Dr. Mercola watched the Apollo 11 moon landing, which inspired him to pursue a career in aeronautics. However, the sheer population density in Chicago made it difficult for him to get admitted into the space program. This did not faze him, however, and still pursued an engineering course in college to continue his road to becoming an astronaut. He eventually shifted to a premedicine course, which served as his transition into a new stage of his life.

During his training in the field of medicine, Dr. Mercola served as a pharm tech at a physician's office and as an assistant at the Illinois Eye Bank and Kidney Bank, where he facilitated donations for organ transplants. He graduated from the University of Illinois at Chicago in 1976, and the Chicago College of Osteopathic Medicine in 1982.

As a traditional doctor, his medical practice back in 1985 consisted of conventional techniques, such as routine physical checkups, medicine prescriptions and school physical exams. He served as the chairman of the family medicine department at St. Alexius Medical Center for five years and the chief resident at the Chicago Osteopathic Hospital from 1984 to 1987. He eventually became board-certified by the American College Osteopathic General Practitioners.

His foray into natural and holistic medicine only began in the early '90s, when he noticed that conventional approaches failed to treat his patients. He then focused on modifying their diet and making them more physically active, which led to great improvements in their health. This realization pushed him to form alliances with other like-minded individuals, such as scientists and medical professionals, to learn more about the natural and holistic side of medicine. He eventually founded Mercola.com in 1997, which has been steadily gaining popularity over the decades since.
---
Founding of Mercola.com
Dr. Joseph Mercola founded Mercola.com in 1997 as a portal for natural health information and resources. It is one of the first health websites established to cater to readers who are interested in holistic medicine. Mercola.com is now routinely among the top 10 natural health websites on the internet, boasting over a million newsletter subscribers, and garnering more than 10 million page views per month.

Mercola.com aims to provide up-to-date natural health information and data that will most benefit its readers and subscribers, helping them achieve peak health and adopt better lifestyles. It also strives to expose corporate, government and mass media hype that diverts people from what is truly best for their health and often toward a path that leads straight into an early grave. Mercola.com provides a harmonious community for educated and open-minded individuals who are determined to change the modern health paradigm. Subscribers and readers belong to a variety of populations, from homemakers to health care experts, all seeking to improve and maintain their state of health.

Originally based in Hoffman Estates, Chicago, Mercola.com now operates at Cape Coral, Florida, and has a remote office in Manila, Philippines.
---
Organizations and Partnerships
As a means of upholding health freedom, Dr. Joseph Mercola has partnered with various organizations to support their operations and keep important information available to the public. A percentage of the proceeds from the Mercola site directly goes to the funding of the National Vaccine Information Center (NVIC), American Holistic Veterinary Medical Foundation (AHVMF), the Consumers for Dental Choice, the Organic Consumers Association and other organizations that promote the freedom of choice in health and wellness.
He also is a member of professional organizations, serving on the advisory boards of the following associations and institutions: Functional Medicine University, American Nutrition Association, Price-Pottinger Nutrition Foundation and Bio-Solar Proto.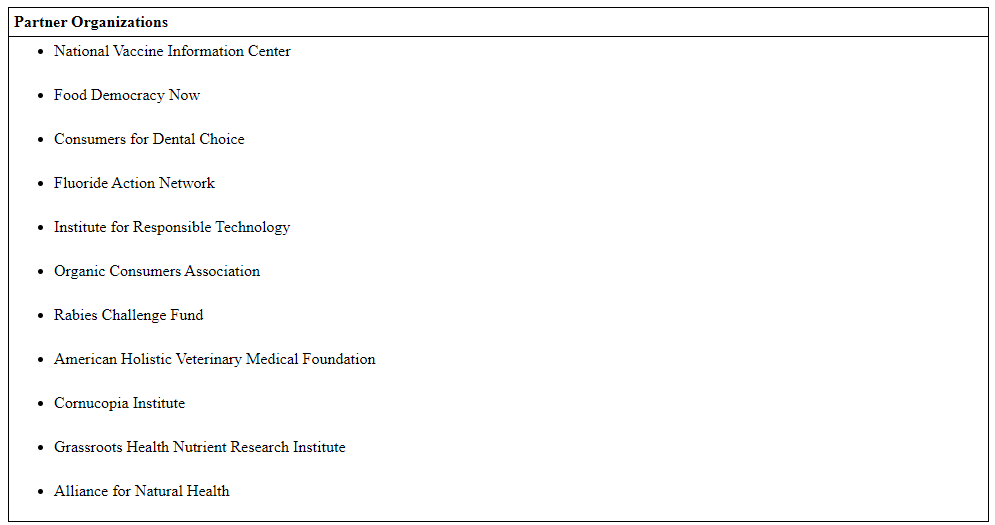 ---
Mercola Editorial Team